The world's most customizable laboratory automation systems
Wako Automation's approach to automation focuses on the customer first.  We design and build automated laboratory systems by working closely with the scientists who are experts at the semi-automated or manual process they have already designed. We use our experience and engineering expertise to make our customer's vision come alive.
Wako Automation provides robust designs, laboratory hardware, and integration services all linked by our proprietary Director™ scheduling software. The end result is a reliable walk-away system that can meticulously fulfill unique and diverse laboratory processes day and night, 7 days per week, with minimal downtime, and easy recovery.
Years of Experience and the Power of FUJIFILM
Wako Automation's personnel have been providing integrated laboratory systems for close to 20 years. Our systems can be found in major pharmaceutical companies, large institutions, smaller biotech's, and academic institutions.
Industry leading Scheduling Software
Design and hardware are only part of the story. Director™, Wako's proprietary scheduling software, has provided unmatched stability in powering integrated systems for almost 20 years. Our team of software engineers responds quickly to customer needs continuously adding new functionality, while maintaining stability.
Director™ Scheduling Software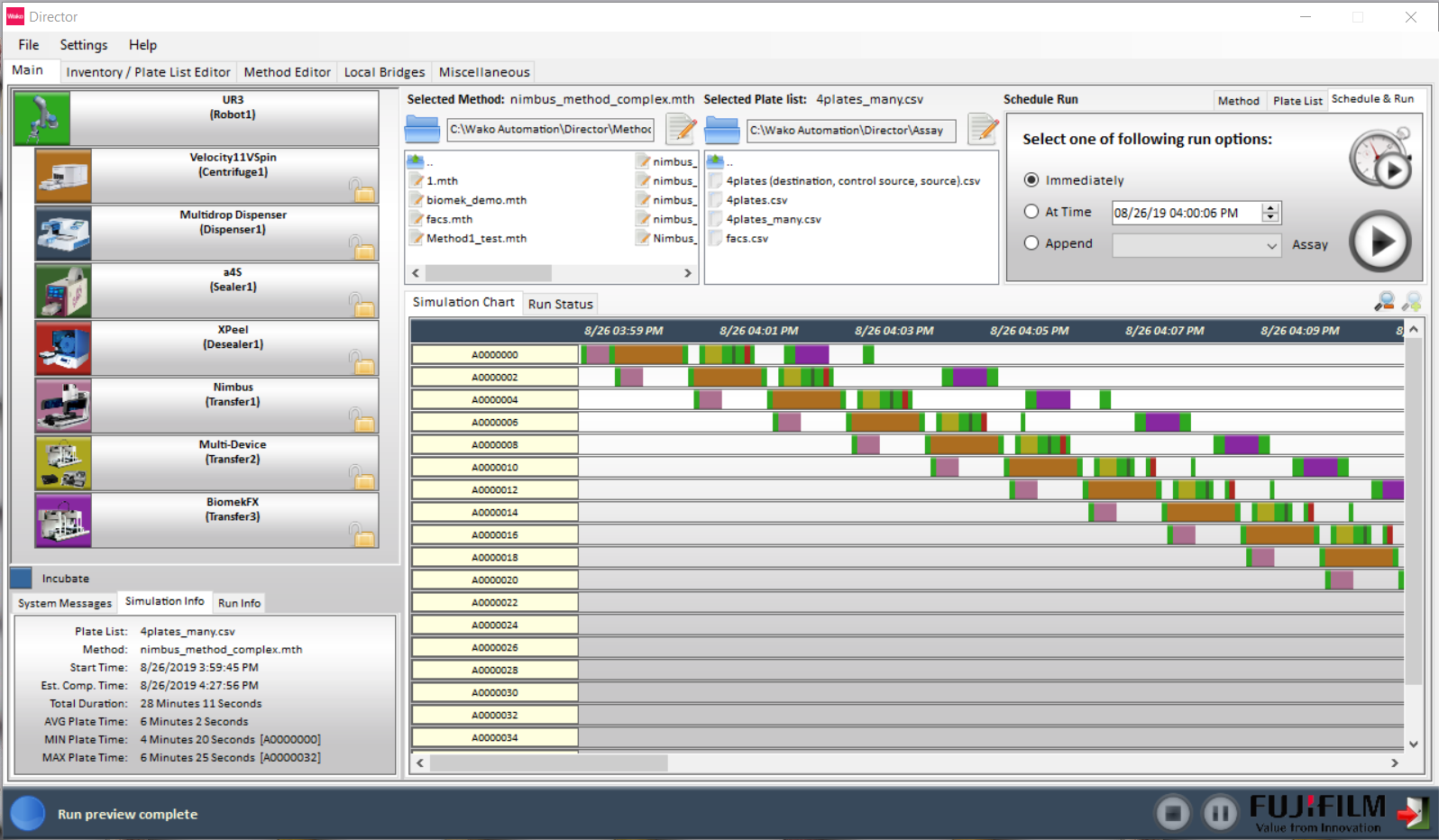 Director™ proprietary scheduling engine powers automated life science assay systems
The engine behind every Wako Automation laboratory system is Director™, the most flexible scheduling software on the market.  Wako prides itself on flexibility and meeting our customer's diverse needs.  Director™ is designed to enable quick easy customization to make your vision reality.
Wako provides all software code with every project.  If you have an in-house specialist that would like to make custom modifications, go for it.  There is no other integration provider that does this.  Wako doesn't believe in holding our customers hostage.  Buy Director™ and integration services from Wako and be set free.
Robust 
Industry leading error recovery
Wako Automation systems have been running for almost 20 years.  This is a testament to our robust design and flexibility.  Wako systems have some of the lowest mean time to failure.  This is the main reason our customers use our systems year after year, while surrounding lab equipment is put into retirement. 
Director™ has advanced logging capabilities that can be used to track all aspects of a system.  If an error is detected, the system can be configured to send external communications to notify users.  Director™ software is robust, so once an error is fixed the system can continue where it left off without the need to start over.
Real Time Gantt Chart of plates with color coded graphic that display's progress
Remote error notifications
Drag and drop method creation
Advanced logging captures plate movements and time at every location. Ability to resume a run even after an unexpected computer shutdown
Remote start and delayed start
Run Simulations to test your protocol before running in real time
Run multiple assays simultaneously on one system
Create, edit and simulate new methods while the system is running a different protocol
Use some equipment in offline mode, while others run in online fully integrated mode
Mix in single offline plate reads with active runs so single assay plates can be read immediately, eliminating the need to wait hours to days to access expensive components.
Pool equipment – if you have multiple replicated components such as 3 bulk dispensers, Director™ determines which one is free, enabling optimized performance. If one goes down your system doesn't stop, Director™ will continue using the functional backups.
Add your own scripts or access the source code for direct customization
Bulk Dispenser and Plate Washer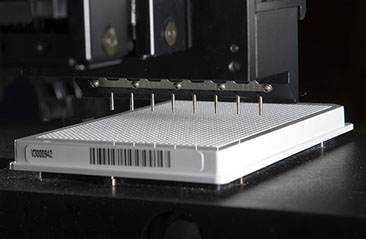 Wako's bulk dispenser can fill a 1536 well plate in under 60 seconds.  It is one of the only 1536 well plate washers that can efficiently but gently wash lightly adherent cells in 1536 well format.  Angled tips that direct wash solution to the well walls rather than to the bottom of the plate reduce the number of cells that are lost while controls that enable fine tuning of aspirate height, position and vacuum strength reduce cellular loss during aspiration.  An optional cellular recirculating system reduces well to well variability by preventing cells from settling in tubing between dispense steps.  Finally, a vision and weighing system provide QC to ensure the same amount of liquid is being dispensed to each well of a plate.
Any tip dispenses any volume to any well
Up to 16 dispense tips
Up to 64 aspiration tips
0.2 – 5µl into a 1536 well plate in < 35 seconds
1 – 10µl into a 384 well plate in < 30 seconds
10 – 50µl into a 96 well plate in < 30 seconds
<0.2µl dead volume per well using aspirate head
Wako Incubators and Storage Systems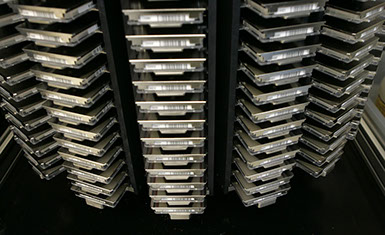 Wako's automated incubators and storage systems have virtually no moving parts.  Fewer parts translates to less things going wrong and higher reliability.  Wako uses a proprietary door on its storage systems that enable the main system robot to reach inside each storage system and directly grab assays or compound plates, while still maintaining excellent environmental control.  Other systems use secondary robot arms to grab plates from storage systems adding additional complexity and more failure points.
4˚C – 70˚C
95% Humidity
486, 200, and 100 plate models
Anaerobic option
Wako Automation Microplate Lids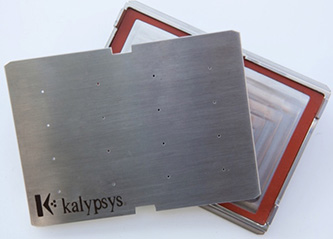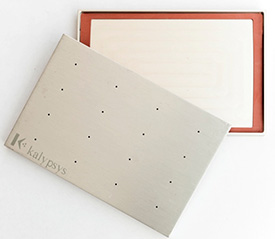 Better Screening Data
Minimize Edge Effects
Reduce Hydration of DMSO
Wako Automation's patented assay lids and storage plate lids (formerly Kalypsys Microplate Lids) significantly reduce edge effects when compared to other microplate lids.
Wako's standard microplate lids are made from stainless steel and contain a rubber gasket that sits around the top outer edge of an assay plate. The weight of the lid allows the gasket to form a strong barrier around the plate, virtually eliminating edge effects. The cellular assay lid contains small evenly placed holes that allow gas exchange necessary for cellular assays.
Improved Data Quality
Wako's assay lids can be used with standard SBS format 96, 384, and 1536 well plates. As shown in the chart below they will significantly improve data quality when running multiday cell based assays.
Wako microplate lids are reusable and autoclavable.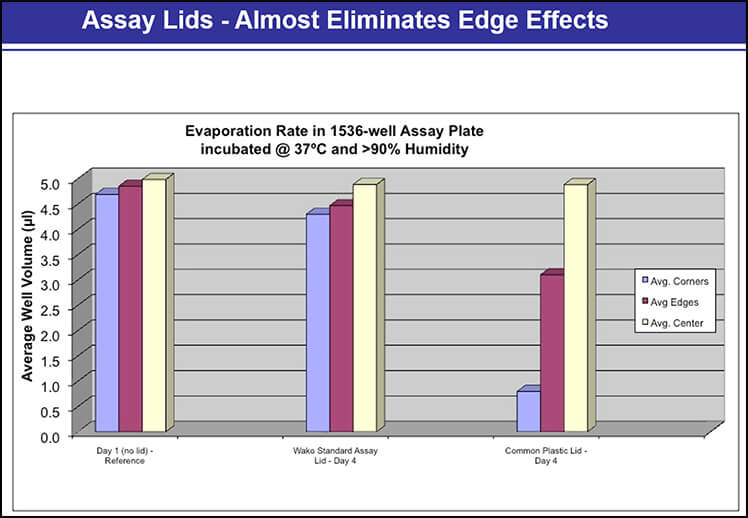 Cellular Assay Lids – Manual use and for use with Wako Automated Cellular
Incubators. The cellular assay lid contains small evenly placed holes that allow even temperature, humidity, and gas exchange necessary for cellular assays.
Compound Lids – No holes, no gas exchange. Used for biochemical assays or for temporary compound storage.
Wako Automation microplate lids are covered by US patents #6534014 & #23108450.