Custom Lab Automation and Scheduling Software
The world's most customizable laboratory automation systems
Wako Automation's approach to automation focuses on the customer first.  We design and build automated laboratory systems by working closely with the scientists who are experts at the semi-automated or manual process they have already designed. We use our experience and engineering expertise to make our customer's vision come alive.
Wako Automation provides robust designs, laboratory hardware, and integration services all linked by our proprietary Director™ scheduling software. The end result is a reliable walk-away system that can meticulously fulfill unique and diverse laboratory processes day and night, 7 days per week, with minimal downtime, and easy recovery.
Years of Experience and the Power of FUJIFILM
Wako Automation's personnel have been providing integrated laboratory systems for close to 20 years. Our systems can be found in major pharmaceutical companies, large institutions, smaller biotech's, and academic institutions.
Industry leading Scheduling Software
Design and hardware are only part of the story. Director™, Wako's proprietary scheduling software, has provided unmatched stability in powering integrated systems for almost 20 years. Our team of software engineers responds quickly to customer needs continuously adding new functionality, while maintaining stability.
Flexible Designs and Robust Services
Wako designs systems large and small, industrial and collaborative
Staubli robotic arms for industrial systems for 24/7 operation
Precise Automation collaborative robots for large to small flexible lab automation
SmartCel-2 compact multilevel workcells by Flexible Lab Solutions
All of our systems are powered by Director™, FUJIFILM's proprietary scheduling software
New updates to Director™ are being released each year to incorporate new feature requests
Flexibility to work with your LIMS system of choice
Dedicated Project managers to guide you toward development of the ideal system for your application
Custom software integration and a Software Development Kit (SDK) if you prefer to do your own customization
Full support plans to maximize up time and assist with new application methods
Director™ 6 Scheduling Software
Director™ proprietary scheduling engine powers all of FUJIFILM's automated systems
The engine behind every Wako Automation laboratory system is Director™, the most flexible scheduling software on the market. Wako prides itself on flexibility and meeting our customer's diverse needs. Director™ is designed to enable quick easy customization to make your vision reality.
Use the software development kit (SDK) to develop and implement your own customizations while benefiting from a fully supported scheduling software from FUJIFILM.
Robust and Intuitive
Industry leading error recovery
Wako Automation systems have been running for almost 20 years. This is a testament to our robust design and flexibility. Wako systems have some of the lowest mean time to failure. This is the main reason our customers use our systems year after year, while surrounding lab equipment is put into retirement.
Wako Automation believes automation software should be easy to use. We have designed Director so that it's simple for anyone to develop new methods or modify current workflows. With minimal software training you can have full control over your automated system.
Director™ has advanced logging capabilities, robust error recovery and is flexible enough to work with your LIMS system of choice.
Over the last 20 years we have built up a large list of device drivers to communicate with a large range of automated instruments. Even if a driver is not currently available, on average our software team can develop one for your instrument of choice in under 2 weeks.
Intuitive web interface provides the ability to create complex, multi-branched methods
Control multiple robot systems
Real time charting of runs
Multi-stage method simulator for detailed process analysis
Scheduled start times and remote start a method
Advanced data logging captures plate movements and time at every location
Remote access and remote notification
Run multiple methods simultaneously
Interleave new methods while another is already running
Run a method without the need to inventory plates prior to start
Create, edit and simulate new methods while the system is running
Operate unused equipment in offline mode during method execution
Ability to generate new methods on the fly based on outside data
An API provides the ability to be controlled by third party systems
Software Development Kit (SDK) available to create your own drivers
Collate run data across multiple runs
Real time tracking of system inventory
Driver availability for a large range of third-party equipment
Priority settings within and between methods
21CFR part 11 compliant
Advanced Interface
Director™ 6 has advanced logging capabilities that can be used to track all aspects of a system. If an error is detected, the system can be configured to send external communications to notify users. Director™ 6 software is robust, once an error is fixed the system can continue where it left off without the need to start over.
Software Development Kit
Advanced users can utilize the Director SDK for instant creation and rapid deployment of custom drivers and custom methods. The enhanced flexibility and simplistic programming techniques allow users to be as independent as they choose, while still benefiting from advanced programming services if desired.
Device Driver Development
LIMS Integration

Powerful Simulation
The embedded emulation processor enables protocols to be created and executed in simulation mode. All data is captured and stored in the Director database allowing users to continually monitor performance and optimize protocols.
Increased Efficiency
Quickly evaluate instrument utilization to identify bottlenecks and speed up processing.

Real-time inventory management
Director monitors barcodes at all stages of operation, enabling accurate snapshots of plate inventory and real-time barcode tracking. All barcode data is appended to the run logs for absolute data integrity.
The intuitive web interface and modular network structure, allow Director to be configured to your exact requirements. Instrument drivers can be installed locally on the main host PC, or on a separate PC / Server for network operation.
SmartCel-2™ by Flexible Lab Solutions
FUJFILM Wako Automation has partnered with Flexible Lab Solutions to offer the SmartCel-2 workcell solution, powered by FUJIFILM's Director 6 Scheduling Software
The Smartcel is a fully automated integration environment, designed to extend the remote capabilities of robotic workcells in the laboratory. The Smartcel is loaded with versatile technology to allow you to use automation to a higher level and improve your return on investment.
Automating your environment with Smartcel is the smarter, safer and more efficient way to work.
Smartcel is a modular system designed to roll into place and be reconfigured easily.
Smartcel is engineered around people, the unique enclosed design keeps your team safe and your processes secure.
Store up to 700 plates across multiple channels in the lower deck – keeping the top deck free and your process flowing.
Designed with provision for all services including cooling fans and cables embedded into a singular workcell. Smartcel captures and controls the system by logging status, temperature and humidity.
As your lab requirements grow so can your automation. Smartcel is made to enable expansion by coupling multiple workcells together.
Maximize automation. Minimize risk and labor costs. Smartcel is designed to work remotely for increased productivity and fewer user errors.
Wako Automation Microplate Lids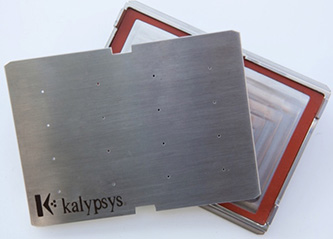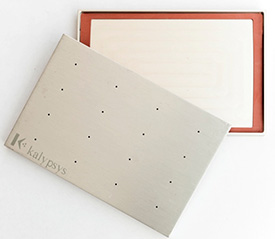 Better Screening Data
Minimize Edge Effects
Reduce Hydration of DMSO
Wako Automation's patented assay lids and storage plate lids (formerly Kalypsys Microplate Lids) significantly reduce edge effects when compared to other microplate lids.
Wako's standard microplate lids are made from stainless steel and contain a rubber gasket that sits around the top outer edge of an assay plate. The weight of the lid allows the gasket to form a strong barrier around the plate, virtually eliminating edge effects. The cellular assay lid contains small evenly placed holes that allow gas exchange necessary for cellular assays.
Improved Data Quality
Wako's assay lids can be used with standard SBS format 96, 384, and 1536 well plates. As shown in the chart below they will significantly improve data quality when running multiday cell based assays.
Wako microplate lids are reusable and autoclavable.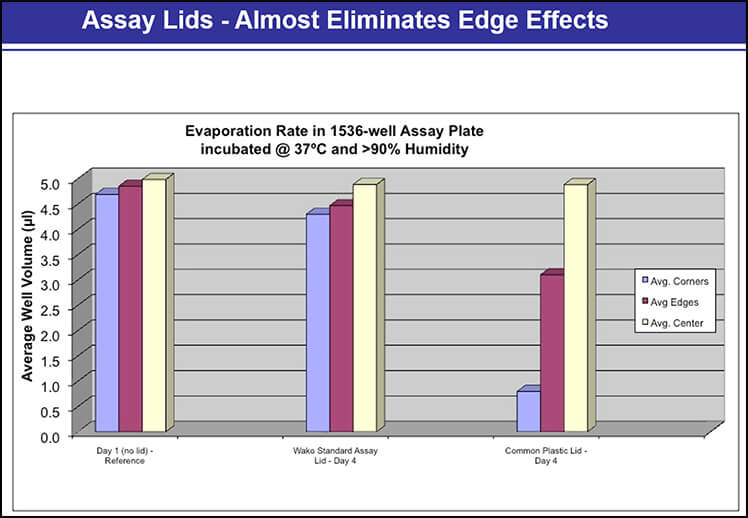 Cellular Assay Lids – Manual use and for use with Wako Automated Cellular
Incubators. The cellular assay lid contains small evenly placed holes that allow even temperature, humidity, and gas exchange necessary for cellular assays.
Compound Lids – No holes, no gas exchange. Used for biochemical assays or for temporary compound storage.
Wako Automation microplate lids are covered by US patents #6534014 & #23108450.