Significance of automation in the lab
The implementation of lab automation solutions can help to address the increasing demands faced by diagnostic and research laboratories. In particular, automation in the lab promotes the collection of comprehensive data with high-throughput analytical methods, reduces bottlenecks caused by lab personnel shortages, helps maintain high data accuracy, and reduces the risk of human errors. Thus, lab automation contributes to enhanced productivity and optimized costs.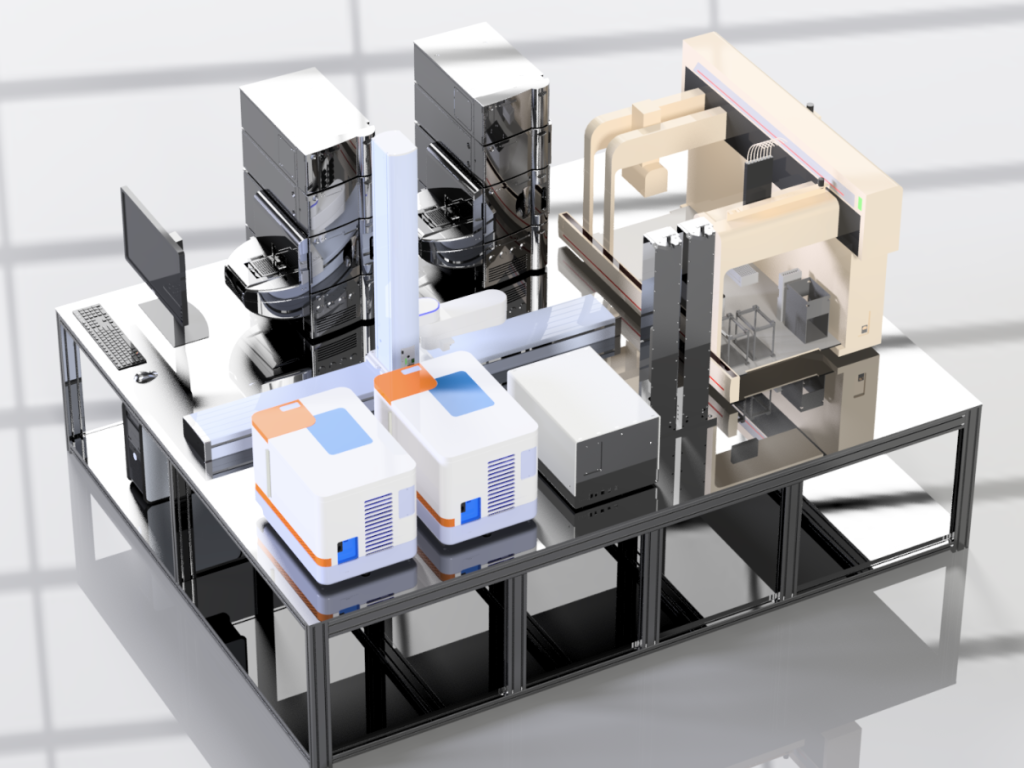 The complex field of analytical chemistry
Analytical chemical applications aim to obtain and analyze information regarding the structure and composition of matter. A wide range of methods may be used to achieve this goal, including chromatographic and electrophoretic techniques.
The characterization of proteins and peptides may pose particular challenges due to the complexity and heterogeneity of protein molecules. Chromatographic applications enable the separation of the components of a mixture, including proteins, depending on the distribution of their relative amounts between a mobile phase and a stationary phase. Capillary electrophoresis (CE)-SDS is a type of capillary gel electrophoresis that includes protein denaturation with SDS and size-based separation. Capillary isoelectric focusing (cIEF) enables the separation of proteins and peptides on the basis of their isoelectric point. Interestingly, both CE-SDS and cIEF have found broad applications in antibody analysis.
Automating analytical chemical applications may help streamline experiments and enable the faster delivery of high-quality and high-throughput data.
Wako's expertise in lab automation for analytical chemical applications
Wako Automation is a leader in the delivery of custom solutions for lab automation, enabling the design of high-throughput experiments that are aligned with unique needs of each client. One of the areas of Wako Automation's expertise is the field of analytical chemistry. Thus, Wako has automated several complex instruments for analytical chemical applications and has included them in completely automated systems. Several of Wako Automation's major achievements in this area include:
Being the first company to automate the Maurice system from ProteinSimple, which can be used to perform both cIEF and CE-SDS experiments and to profile proteins by both charge and size. Wako Automation modified the instrument's door to enable its automatic opening, closing, and plate insertion. In addition, Maurice was integrated with Water's Empower software, enabling automatic protocol launching and rendering Maurice a fully automated system.
Being among the pioneers in automating the advanced liquid chromatography Waters ACQUITY system and providing expanded automation options for customers. In collaboration with Waters, Wako worked on integrating the ACQUITY automation portal in the process of its beta development.
Achieving integration of multiple Maurice instruments, multiple Waters ACQUITY devices, and a Tecan Fluent to create a fully automated analytical chemical system.
Significance of the automation of analytical chemical applications
Lab automation may streamline a wide range of lab experiments, including analytical chemical applications. Its many advantages include enhanced accuracy, productivity, efficiency, and consistency as well as cost reduction. Wako has contributed to the process of lab automation by successfully automating a wide range of instruments across various research areas, while always focusing on clients' individual needs.